MINDFULNESS BASED STRESS REDUCTION (MBSR)
A Sound Practice for Learning, Growing & Healing
Reawaken to What You Already Are
Mindfulness is not something that you have to "get" or acquire. It is already within you — a deep internal resource available and patiently waiting to be released and used in the service of learning, growing, and healing. While the practices have been adapted from classical Buddhist meditation and yoga traditions, MBSR is a secular, scientifically-informed approach that operates in harmony with any belief system or spiritual background.

MBSR has benefited people with the following:
Stress
from work, school, family, finances, illness, aging, grief, uncertainty about the future, and feeling "out of control" .
Medical conditions
including chronic illness or pain, high blood pressure, fibromyalgia, cancer, heart disease, asthma, GI distress, skin disorders, headaches, and many other conditions.
Psychological distress
including anxiety, panic, depression, fatigue, and sleep disturbances.
Prevention and wellness
including health enhancement and wellness focused on prevention and learning the "how" of taking good care of yourself and feeling a greater sense of resilience and balance.
Mindfulness-Based Stress Reduction is highly respected within the medical community. It is not offered as an alternative to traditional medical and psychological treatments but as a complement to these approaches.


We will be teaching MBSR online, register to our newsletter to find out when...

Session Dates: To be shared when scheduled
Session Times: To be shared when scheduled
1/2-day Retreat:
To be shared when scheduled
Location:
Online via Zoom
Investment:
What is included: Facilitation, participant handbook, MP3s of weekly home practice meditations.
MaryAnn received her MBSR teacher certification in February 2018 by the Mindful Academy: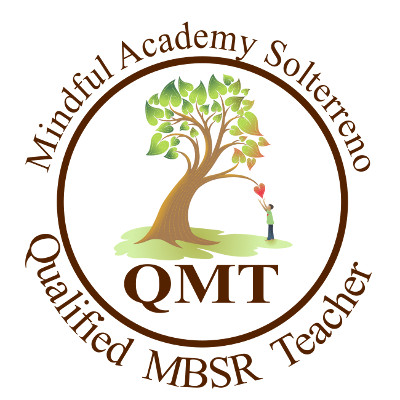 As it happens in Hong Kong, you might need to miss 1 or 2 sessions, you will be given a participant handbook to catch up on the topics and we will communicate by email where I will share with you what is the weekly practice for the week you missed and answer any questions you might have.
Your responsibility to yourself during the duration of the programme: A daily 30 minute practice so you can reap the benefits of this course.
Before joining the class it's important we connect so we can make sure this course is right for you and answer any questions you might have which were not answered during the informational session on the 15th or 29th January or you couldn't make it.
Maximum: 12 participants.
Register
---
Program
Week 1:
Here you will receive an overview of the course and establish the learning context for the rest of your experience. You will learn the theory and evidence of mind-body experiences and how to apply it in your life. You'll be experientially introduced to mindful eating, mindful breathing, and the body-scan method, with a special emphasis on what it means to be fully engaged in the present moment.
Week 2:
In this session we will explore the 8 mental attitudes that go hand in hand with mindfulness practice to live a fuller and more present life — We will learn the impact on perception on our reality and we will practice the 3 step breathing space, a pocket technique to take into your daily life for a moment by moment application of mindfulness. You'll practice several distinct yet interrelated mindfulness practices—mindful movement and walking meditation. This is an ideal time to share your insights about your experiences with formal practice & integrating mindfulness into your daily life.
Week 3:
Perception is key in mindfulness—how you see things (or don't see them) will determine in a large part how you respond. This week's session and practices will ask you to examine your perceptions, assumptions, and the way you view the world. You will learn & practice sitting meditation to cultivate a greater degree of awareness of how you react to stressful situations. Changing the way you perceive and respond to difficulties and challenges will impact the short- and long-term effects of stress on your mind and body.
Week 4:
By practicing mindfulness, we cultivate curiosity and openness to the full range of our experience, and through this process our ability to pay attention becomes more flexible. This week, your practice will focus on the development of your ability to concentrate and systematically expand your field of awareness. You'll learn about the physiological and psychological bases of stress reactivity, and experience mindful strategies for responding in positive, proactive ways to stressful situations.
Week 5:
At the halfway point in this course, you should now be familiar with the foundations of mindfulness and able to focus on applying it more rapidly and effectively to specific challenges and stressors in your life. This week you will begin to pay attention to the places where you might be stuck in repeating, unhealthy thinking patterns that you can disarm through mindful awareness to thoughts. You will also learn how to apply mindfulness at the critical moment when you experience a physical sensation, intense emotion, or condition, with special attention to exploring the effect of reactivity in health and illness.
Week 6:
Resilience or "stress hardiness" is our ability to return to equilibrium after stressful situations. This week, you will focus on transformational coping strategies to broaden your inner resources and enhance your resilience through mindfulness practice and mindfulness of emotions. You'll also learn the fundamentals of interpersonal mindfulness—applying awareness and presence at times when communication becomes difficult or fraught with strong emotions. You'll gain direct experience of a variety of styles for more effective and creative interpersonal communication.
Week 7:
Mindfulness is most effective when there is non judgment, kindness and compassion for others and ourselves. This week, you will explore the many ways that you can integrate kindness, compassion through mindfulness more fully and personally into your life. While having a dedicated regular practice for mindfulness meditation is important and beneficial, it is just as important to bring a broader sense of awareness and presence to every moment in your life, and to use non-judgmental mindfulness in your self-reflection and decision-making processes. You'll learn how to maintain the discipline and flexibility of daily practice as circumstances change over the course of your life.
Week 8:
In the final week of the program, you will have a complete review of everything you've learned over the course, with an emphasis on carrying the momentum you've built forward into the coming months and years. You'll learn about resources available to you to pursue mindfulness in new directions as your life and practice evolve, as well as the support systems that exist to help you continue to integrate, learn, and grow. The final lesson creates a satisfying closure by honoring both the end of this program and the beginning of the rest of your life.
Full Day Retreat:
This day-long guided retreat will take place between weeks 6 & 7. The intensive nature of this full day retreat is intended to assist you in firmly and effectively establishing the use of MBSR skills in your life, while simultaneously preparing you to utilize these methods far beyond the conclusion of the program.